Indian cricket captain MS Dhoni shows off his bride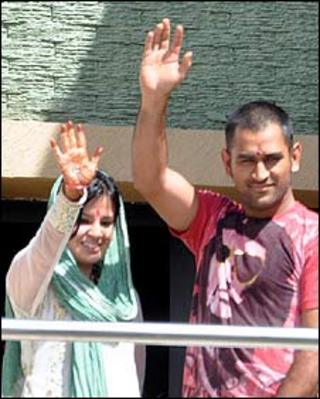 It has been an eventful few days for Indian cricket hero MS Dhoni - married at the weekend and celebrating his 29th birthday on Wednesday.
The Indian cricket captain was acclaimed throughout the country for winning the first ICC Twenty20 World Cup trophy in 2007.
News of his marriage generated headlines at the weekend.
The media on Wednesday was full of speculation as to where his reception would be and who would be invited.
In the event Dhoni and his bride cropped up in Ranchi, in the state of Jharkhand, where he lives.
Dhoni married Sakshi, a 21-year-old management student, on Sunday night in a private ceremony attended by only about 50 people in the city of Dehradun.
His close friends and fellow cricketers Harbhajan Singh, Ashish Nehra, RP Singh, Suresh Raina and Rohit Sharma all attended amid heavy security.
"Dhoni was really relaxed and having a good time. The couple look very good together and we heard murmurs from girls present at the event that their hearts are broken," one newspaper reported.