UK soldier killed after Afghanistan duty named by MOD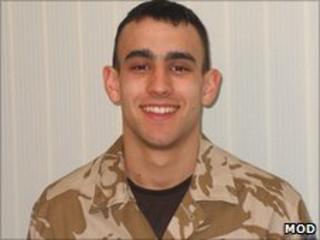 A British soldier who died in a UK hospital after being injured in an explosion in Afghanistan has been named by the Ministry of Defence.
Pte Thomas Sephton, from 1st Battalion, The Mercian Regiment, was on patrol in the Nahr-e Saraj district of Helmand on Sunday when he was caught in the blast.
Pte Sephton, 20, from Warrington, was flown to the UK for treatment, but died on Monday with his family at his side.
The number of UK personnel killed in Afghanistan since 2001 is now 312.
Pte Sephton had been providing protection for the clearance of a road in the Upper Gereshk Valley.
The soldier was treated on the ground, and at the UK base at Camp Bastion, before being flown to the UK for further medical care. He died at the Queen Elizabeth Hospital, in Birmingham.
In a statement, his family said: "Tom meant the world to everyone who knew him. We are so very proud of our brave soldier. He will be with us forever in our hearts."
And Lt Col Andrew Hadfield, Commanding Officer 1 Mercian, said Pte Sephton was a "hard-working man, always ready to volunteer for additional work or responsibility in order to improve the lot of others".
He added: "If any man lived the motto 'Stand Firm Strike Hard' it was Tom Sephton. He will be missed deeply by the Mortar Platoon, and by the men of C Company to whom he was attached. The thoughts and prayers of the entire Battalion are with his family and friends at this most difficult of times."
Earlier, another British soldier who died on Monday was named.
Trooper James Anthony Leverett, 20, from Rawmarsh, South Yorkshire, of Royal Dragoon Guards, died in the Nahr-e Saraj district of Helmand province.
He was in a vehicle which struck the bomb, setting it off. His commanding officer said Trooper Leverett was a "model soldier".