Benefit cheats caught on Wife Swap TV show avoid jail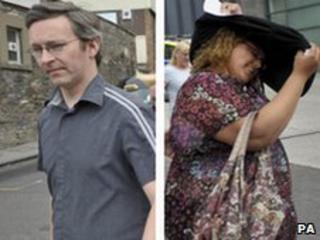 A couple caught cheating almost £10,000 in benefits after appearing on the reality TV show Wife Swap have avoided jail.
Kelly Jones, 23, from Bristol, claimed she was a single parent with no income for nearly 18 months.
Jones also claimed she was living alone with her child, after her partner Steven Jones, 40, who works as a bus driver for First, had moved in.
The couple were given suspended jail sentences by city magistrates.
Mrs Jones, who married her partner in April, was overpaid £4,976 in housing benefits, £3,614 in income support and received a £1,171 discount on her council tax bill.
'Motivated by greed'
Jane Bramhall, chairman of the bench, sentenced Mrs Jones to three months in prison, suspended for one year, and Mr Jones to six weeks in prison, suspended for one year.
She ordered the couple to complete 150 hours of unpaid work each and to repay the money for the housing benefits and council tax, as well as £1,263 in costs.
She said: "You committed these offences deliberately, you were motivated by greed.
"You had the opportunity to put things right and admit it and you did not take it."
The couple, of Gill Avenue on the Oldbury Court estate in Fishponds, were found out only when Bristol City Council was tipped off after they appeared on the Channel 4 reality show Wife Swap in June last year.
The show involves two women spending a fortnight living with each other's husband and family.
They were paid £1,000 to appear on the show, which was filmed in October 2008.
'Frittered it away'
Mrs Jones previously admitted failing to notify the council that her partner had moved in with her, declaring on her benefit application that she lived alone, failing to tell the Department for Work and Pensions (DWP) her partner was living with her, and also failing to tell the DWP her husband had received £30,625 when his house in Yate was repossessed.
Mr Jones pleaded guilty to aiding and abetting his wife.
Mrs Bramhall told the couple their offence was so serious that if they had not pleaded guilty, they would have been sent to prison.
The court heard that instead of using £30,000 from the repossession of the house to put matters right, they spent the money.
Ashley Clarke, prosecuting for the council, said Mr Jones claimed he spent £700 on a car, between £300 and £400 on a family funeral and gave £4,000 to his aunt and mother to repay debts.
She added: "He hid the rest in a cupboard and frittered it away on slot machines, petrol, presents for friends and other odds and ends."
When council officers interviewed the couple they fully admitted what they had done.
'Hate mail'
The court heard Mrs Jones began claiming benefits legally after she separated from Mr Jones, but did not inform authorities when they were reunited and he moved in.
Ruth Tiley, defending for Mrs Jones, said her client suffered from post-natal depression and was prescribed Prozac but did not take it.
She said: "She is quite horrified by what she has done.
"Since the situation has come to light from Wife Swap, she has received hate mail and is taunted in the street."
Selena Hunt, defending for Mr Jones, said the authorities would not have known about the £30,000 from the house if her client had not told them about it.
She said: "He has endured considerable shame and embarrassment from the fact this has been so public.
"He has continued to work in his employment receiving stick from the passengers, with people taking photos of him on their mobile phones while he was driving his bus."
The couple have two daughters together - one aged three and the other 11 months.