Potter's Bar families 'disgusted' by evidence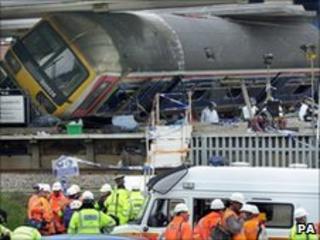 Relatives of those killed in the Potter's Bar rail crash said they were "disgusted" by inquest evidence given by a maintenance company chairman.
Seven people died on 10 May 2002 when a train hit faulty points south of the station in Hertfordshire.
At first, Jarvis suggested the points at Potters Bar had been tampered with prior to the crash.
Its chairman Steven Norris defended the theory, saying it had only been put forward as a possibility.
The inquest jurors heard a recording of an interview Mr Norris gave to the BBC shortly after the crash in which he said there was "compelling evidence" that sabotage was "a very distinct possibility".
'Simply preposterous'
At the inquest, Mr Norris denied it had been an attempt to prop up the company's falling share price and attacked the media, saying they had overplayed the suggestion.
He said he had been misquoted in numerous newspaper articles and BBC items which were read out to the court, saying he had never used the word "sabotage" as an absolute.
Perdita Kark, whose father died in the crash, said she had come to the inquest hoping for an apology from the company, but had heard nothing of the sort.
Noel Broadbent, director of compliance and standards at Jarvis in 2002, told the inquest the firm had not been able to explain the "catastrophic" failure of points and had wanted to draw attention to the possibility that points had been "interfered with".
John Hendy QC, who is representing victims' families, told him: "It was wholly untenable - a simply preposterous suggestion."
Another lawyer suggested Jarvis had "put up" the former Conservative Transport Minister Steven Norris, who at the time was one of the firm's directors, to "make comments" to the media about the sabotage theory.
Experts concluded that the "root cause" of the crash was the failure of a set of points south of Potters Bar station, Judge Michael Findlay Baker QC, who is presiding over the inquest, has told jurors.
Railtrack had primary responsibility for track and signals at the time of the crash and maintenance had been sub-contracted to Jarvis, which went into administration earlier this year, he said.
Jurors heard Network Rail and Jarvis had accepted responsibility for the crash in 2004.
The inquest, due to end later this summer, will examine the deaths of Austen Kark, Emma Knights, Jonael Schickler, Alexander Ogunwusi, Chia Hsin Lin, Chia Chin Wu and Agnes Quinlivan.
More than 70 people were also injured when the 1245 London to King's Lynn, Norfolk, train hit faulty points south of Potters Bar station.