Several Coronation Street stars are to be killed off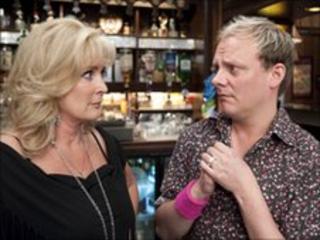 Several Coronation Street characters are to be killed off during the show's 50th anniversary storyline, bosses have announced.
Producer Phil Collinson told This Morning that the viaduct would collapse and a tram was going to crash into the street.
"We'll be losing some well-known, well-loved characters," he said.
Mr Collinson said the "big, big story" and its fallout would be played out over a week in December.
"Hopefully we'll be keeping under wraps who exactly will be going. We'll be doing everything we can to make sure we keep that secret until it transmits."
The producer also revealed that Tracy Barlow, played by Kate Ford, was set to return as a full-time character next year and a "sinister turn" was planned for John Stape (Graeme Hawley).
Last month, EastEnders - which marked its 25th anniversary earlier this year, announced it also had a huge storyline planned.
The Queen Victoria pub will be burned down, killing several major characters.
A huge disaster is often used to shake-up a soap's cast. In 1993, a plane crash rocked Emmerdale's quiet village and a killer plague in Brookside in 1995 wiped out three residents.