£1.5m boost for County Down medical firm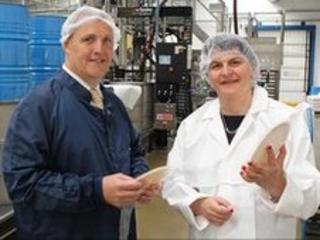 Medical device manufacturer TG Eakin is investing £1.5m in its plant in Comber.
TG Eakin manufactures a range of products, including colostomy bags.
It exports 85% of its output to around 30 countries. Its biggest single market is in north America.
One of its most successful innovations has been an adhesive which attaches the bags to the skin, which has been shown to be much less likely to cause irritation than other similar products.
The investment is being supported by funding from Invest NI and the European Regional Development Fund.
Managing director Jeremy Eakin said that the money was being spent on two separate projects.
"The first is in improving the production of wound pouches," he said.
"It will make the manufacturing process more efficient, reducing costs at a time when health services in our major markets are cutting back on their expenditure, and putting more pressure on suppliers like us to freeze or even reduce their prices."
He said that most of the major manufacturers had already relocated their manufacturing plants to the Far East, or in the case of one US company, to central America.
"We have no intention of leaving Comber," said Mr Eakin.
"That means we constantly have to look at ways of becoming more efficient."
The second project, Mr Eakin said, was in research and development, and was aimed at making colostomy bags more comfortable to wear.
"At the moment the wearers are having to get the bags pre-cut to the correct size, or in some cases they are having to do the job themselves," he said.
"The new product we are working on will make all that unnecessary. Users will be able to mould the bags to fit their body contours without having to cut them to fit.
"It doesn't sound like rocket science, but it's a big step forward for people who use these products."