Trevor Phillips 'not guilty' of contempt of Parliament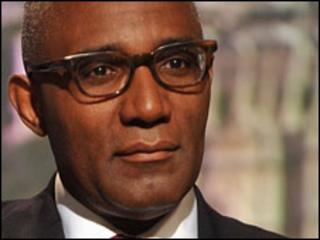 UK equalities chief Trevor Phillips is not guilty of contempt over claims he tried to influence a committee writing a report on him, a watchdog has ruled.
But peers said his behaviour was "inappropriate and ill-advised".
Mr Phillips had contacted members of the Joint Committee on Human Rights, which was investigating problems at the equalities body he chairs.
He rejected the finding he had behaved inappropriately but said he was pleased to have been cleared of contempt.
The inquiry began back in February when the joint committee - which had been investigating the Equality and Human Rights Commission following a spate of resignations - complained that Mr Phillips had contacted three of its members about its draft report.
'Unfairness'
They claimed it could "constitute a contempt of both Houses in that they may be an attempt to influence the views of certain members of the committee" ahead of the report's publication.
In its report into the affair, the Lords privileges commitee said Mr Phillips contacted three members of the committee - Labour MP Fiona Mactaggart, Labour peer Lord Dubs and Lib Dem peer Baroness Falkner of Margravine - after he had been tipped off by a member of his staff about criticisms of him in their draft report.
"In each case Mr Phillips raised the issue of publication of evidence, and the possibility that certain evidence might be redacted.
"He also touched on the personal criticisms directed against him, and accused the chairman of the JCHR, either explicitly or by implication, of unfairness," says the Lords Privileges committee in its judgement on the affair.
A Commons committee indicated in March that it could find no evidence of contempt and the Lords Privileges committee report found Mr Phillips' concerns about the JCHR report were "entirely legitimate".
Report 'leak'
But they said it should have been obvious to Mr Phillips that he should have raised his concerns with the chairman or clerk of the committee, and not with MPs and peers who he knew personally.
"Mr Phillips' behaviour in ringing individual members of the JCHR in order to raise his concerns over the handling of evidence, was inappropriate and ill-advised," the report said.
But it said claims that the committee's work was undermined by his actions was "subjective" and not borne out by submissions from the members involved.
"We therefore conclude that, however inappropriate and ill-advised, Mr Phillips' actions did not significantly obstruct or impede the work of the JCHR," said the report.
"Taking all the circumstances into account, we do not consider Mr Phillips' conduct to amount to a contempt of the House."
It also says that if there had been a leak of the report from the committee, that might constitute a contempt - but the committee had not been asked to investigate that.
The committee also points out that witnesses to committee inquiries are not advised about the concept of contempt, nor given "clear instructions" about the best way to communicate with committees.
'Show trial'
It called for clearer information to be given to witnesses to a parliamentary inquiry on how they should conduct their contacts with committees, and suggested that individuals to be criticised in reports could be given an opportunity to respond before publication.
In a statement issued through the EHRC, Mr Phillips said: "I'm pleased that both committees have dismissed the allegations of contempt."
"During this process it has become clear that the current procedures governing conduct between individuals, organisations and parliamentary committees are not clear to almost everyone involved. I therefore welcome the Lords privileges committee's recommendation that proper guidance should be published."
But he rejected the idea that his conduct had been inappropriate. The EHRC said he had tried to contact the committee chairman several times "without response" so it was felt there was no other option than to contact committee members directly.
After the decision to investigate Mr Phillips for contempt, one of the three contacted - the Labour MP Fiona MacTaggart - complained about the inquiry - telling MPs Mr Phillips had done "nothing improper" and the committee's inquiry into the EHRC had been "more like a show trial".
The Lords Privileges committee said of the other two contacted, Lord Dubs had felt Mr Phillips was "simply expressing a general concern" but Baroness Falkner felt it was "deeply inappropriate".
It is rare for non-politicians to be investigated for contempt of Parliament - the last to be called to the House to be formally rebuked was Sunday Express editor John Junor in 1957 - although a law firm was found in contempt in February - after a row involving the Lib Dem MP John Hemming.