Expat flew home from Thailand 'to murder Surrey woman'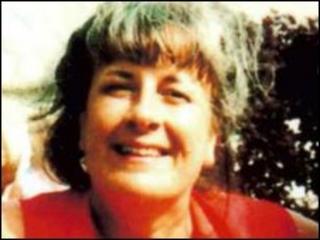 A devoted housewife was strangled and "cruelly trussed up" with parcel tape and electrical cord by a British expatriate, the Old Bailey has heard.
Paul Cryne is alleged to have flown home from Thailand to murder Sharon Birchwood, 52, at her home in Ashtead, Surrey, on behalf of her ex-husband.
The court heard he carried out his work with "ruthless efficiency", leaving no fingerprints or "obvious clues".
Mr Cryne, 62, who was later extradited from Thailand, denies the charge.
Opening the case for the prosecution, Mark Dennis QC said Graham Birchwood, 54, was heavily in debt and facing bankruptcy after a string of business failures in Thailand.
Mr Dennis said he was the sole beneficiary of his ex-wife's will, leaving him her £400,000 bungalow and £75,000 in life insurance.
"His only hope was if he found a pot of gold, enough money to clear his debts and start over again," he said.
Jurors were told that Birchwood had since been found guilty of the murder.
Mr Dennis said Birchwood had needed someone prepared to kill his wife "without being noticed, who could disappear without ever attracting the attention of the police".
"Had it not been for some painstaking forensic work, Birchwood would have got away with this," said Mr Dennis.
"However careful the killer had tried to be, as it turned out, there was a clue left behind.
"DNA traces from the right hand of the deceased and the roll of tape used to bind her were recovered and found to match the DNA of this man, the defendant," he said.
'Cover his tracks'
Mr Cryne, "part of Birchwood's expat business circle", flew to the UK from Thailand at the end of October 2007, staying with Birchwood at his mother's house in Banstead.
Two days before the killing in December he left, giving the impression he was going to stay with friends in the West Country when in fact he was a short distance from Ashtead, jurors heard.
Within three hours of Mrs Birchwood's murder, Mr Cryne was at Heathrow awaiting a flight back to Thailand the next day.
Birchwood had been shopping in Epsom at the time, and "tried to cover his tracks" afterwards by sending text messages to his ex-wife on the following two days, before a 999 call the day after that.
Mr Dennis said Mrs Birchwood was found lying fully clothed on her bed, "cruelly trussed up".
"She had been bound and gagged using a combination of parcel tape and electrical cord. Her ankles had been tightly bound together by tape, as had her wrists."
Mrs Birchwood's wrists had been pulled up to her face and she had been gagged.
"Electrical cord had been repeatedly wrapped around her head and a small metal handle had been used to tighten those bindings acting in effect as a tourniquet."
Jurors were told there were no signs that she was killed during a struggle or in a robbery or that there was any sexual motive.
The trial continues.