Super 8s Glasgow event unaffected by strike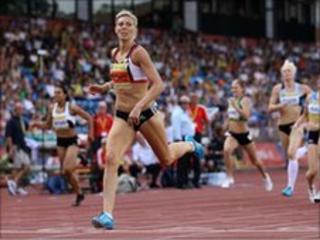 An athletics event is to go ahead in Glasgow despite the body which runs the city's museums, libraries and sports facilities being hit by strike action.
Glasgow Life, formerly Culture and Sport Glasgow, said the Super 8 event would take place as planned at Scotstoun Stadium on Wednesday night.
Members of the Unison, Unite and GMB unions are taking 24-hour strike action over pay and conditions.
Previous walkouts have closed some of the city's top museums and attractions.
The unions have said they are fighting a 10% wage cut for 150 workers, a pay freeze and cuts in public holidays and overtime rates.
A spokesman for Glasgow Life said: "The unions have failed to disrupt both the international athletics event and the running of Glasgow's busiest sports facility.
"By all reports, it is business as usual at Scotstoun."
The Super 8s will see a team from Glasgow take on seven other cities in a one-off evening of events.
Lee McConnell will captain the Glasgow team at Scotstoun, which will also see stars such as Lolo Jones and Ahmed Hassan competing.