L'Aquila quake victims demonstrate in Rome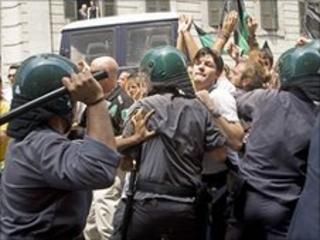 Residents from the Italian region struck by a major earthquake in 2009 have skirmished with police at a demonstration in Rome.
Several thousand people took part in the rally, complaining that they had not received enough help from the government following the disaster.
At least two demonstrators were slightly injured in the clashes.
The earthquake killed more than 300 and made tens of thousands homeless in the area around the city of L'Aquila.
On Wednesday, demonstrators from the region pushed up against police cordons in central Rome, near the office of Prime Minster Silvio Berlusconi.
'Slow progress'
One protester standing on top of a van called from a megaphone for Mr Berlusconi to explain why those affected by the earthquake had not been given more help.
"We came here to collectively ask for help and we are being beaten," the mayor of L'Aquila, Massimo Cialente, was quoted as saying.
The government initially won praise for its support for L'Aquila in the aftermath of the 6 April, 2009 earthquake.
Many of those forced from their homes were given temporary housing.
But residents have since complained that the construction of new homes and efforts to rebuild the historic city centre have been too slow.
Authorities have said it could take up to 10 years for life in the area to return to normal.