Prisoners 'moved drugs at Mass' in Magilligan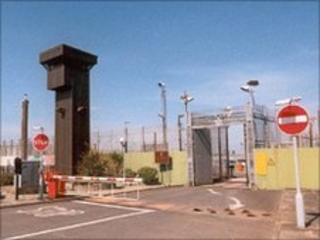 Prisoners at a jail in Northern Ireland use church as a cover for moving drugs, the High Court in Belfast has heard.
The governor of Magilligan jail said prisoners would move and transfer drugs in areas where they congregated in large groups.
He said this was the reason for prisoners in its harm-reduction unit being banned from attending Mass.
A prisoner held in the unit challenged the ruling, but a judge dismissed his application for a judicial review.
Mr Justice Treacy said a priest had agreed to say a separate Mass for the eight prisoners in the unit, but he had to withdraw his offer.
The judge said the priest was confronted by three inmates who subjected him to hostile abuse about his alleged co-operation with prison authorities.
He said the priest's withdrawal was directly related to the conduct of the prisoner who took legal action and other inmates who confronted him.