Consultant runs Surrey and south London trauma network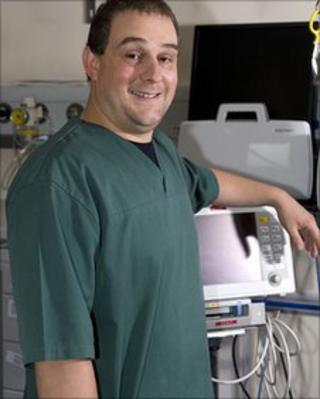 A Surrey consultant has been put in charge of a network linking seven hospitals designed to ensure the rapid transfer of severely injured patients.
Kelvin Wright is the new clinical director of the South West London and Surrey Trauma Network.
He has worked in A&E and intensive care at Frimley Park for five years.
The trauma network's aim is to ensure patients are transferred as quickly as possible to the major trauma centre at St George's Hospital, Tooting.
The Royal Surrey County Hospital at Guildford, St Peter's in Chertsey, the East Surrey at Redhill, Mayday in Croydon and Kingston Hospital are also part of the network.
"This concept is a huge leap forward in the care of multiple injury cases and is an example of how clinicians are pooling their skills and redesigning services together to provide the best possible results for patients," said Dr Wright.
New helipad
Patients are transferred to St George's either by road or air.
The trauma network is to be enhanced by a new helipad to be built at Frimley Park as part of a £20m upgrade to the Emergency Department.
Building work is to start next year.
"The helipad will allow us to transfer some of the most severely injured patients to specialist centres like St George's more quickly and safely," said Dr Wright.
"Our role will be to stabilise those patients here at Frimley so they can be transferred to the places that offer the best chance of survival and recovery.
"Making those transfers by air rather than road ambulance will be much smoother and reduce the journey times from 45-60 minutes to about 15 minutes.
"Those differences could be crucial to a patient with severe spinal or head injuries, for example, and we believe it will save lives."