Building site in Birdlip still sealed after bombs found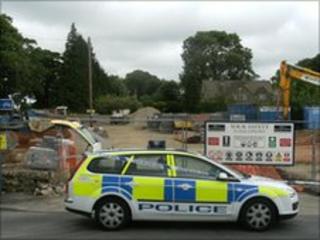 There are more bombs buried on a building site where a World War II shell burst into flames earlier, police have said.
The initial item, thought to be a Home Guard incendiary device, was discovered on the site in Birdlip, which remains sealed off, just before 1400 BST.
Officers cleared the area and explosives experts were called.
Bomb disposal teams are waiting for advice from the Environment Agency before making the other bombs safe.
Sgt Andy Wood, of Gloucestershire Police, said there was no need to evacuate the surrounding area
He added: "The danger is not that great."
But he said there were reports of "several more" devices on the site.
"I understand they will be immersed in large drums of water and cracked open," he said.
"Because they're in water they won't ignite."
Sgt Wood said there were concerns the surrounding soil may be contaminated and the Environment Agency would be advising on how to deal with that.
The B4070, close to the site, was reopened at about 1515 BST.