Ill juror postpones baby murder bid trial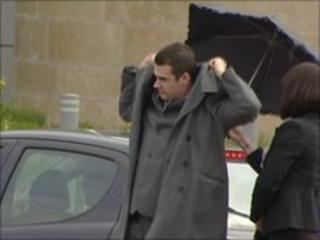 The trial of a man accused of attempting to murder a six-week-old baby has been postponed after a member of the jury was taken to hospital.
Closing speeches in the trial of Raymond McPhee, 24, were set to take place at the High Court in Livingston. He is accused of assaulting and attempting to murder the baby boy.
But judge Lord Uist adjourned proceedings after hearing that one of the 15 jury members had taken ill.
The trial is due to resume on Thursday.
Lord Uist told the remaining jurors: "A member of the jury has been taken to hospital and that represents a problem for us. We've been told that because he is having tests at hospital, he cannot attend today.
"As the juror has heard all the evidence it is only fair to allow him a further day to recover.
"One way or another we will proceed tomorrow. It now looks likely that the trial will continue into Friday."
'Freak thing'
Mr McPhee, of Moir Crescent, Aberdeen, is alleged to have pinched the baby repeatedly on the head and body, struck him on the head, face and body, forced something into his mouth, squeezed the child and shook him, as well as restricting his breathing with a pillow, or by other means on 25 August 2008.
He also denies a charge of failing to get the baby medical attention.
During the trial, the court has heard the infant was found with serious injuries after Mr McPhee had been babysitting while the mother went on her first night out after giving birth.
The woman, who cannot be named for legal reasons, said she received a text from Mr McPhee while she was at dinner which read: "This child is driving me mad. He just won't go to sleep. The little bastard."
She later found the baby "floppy" and "out of it", with several visible injuries.
Doctors said he was brain damaged.
Mr McPhee told the trial the baby had fallen down the side of the bed and said the incident was "just one of those freak things".