Cleanliness concern at Royal Glamorgan Hospital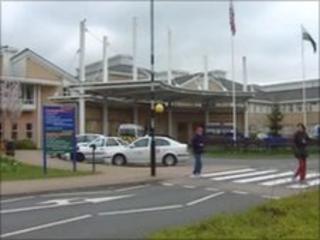 An unannounced spot check at a hospital revealed "poor and sub-optimal" standards of cleanliness, says Healthcare Inspectorate Wales (HIW).
Equipment at the Royal Glamorgan Hospital in Llantrisant, Rhondda Cynon Taf, was found to be dusty, including resuscitation trolleys.
A "visibly dirty" medicine trolley was highlighted as a concern on one ward.
Cwm Taf Health Board said it "fully recognised" the findings and an action plan had been implemented.
Inspections were carried out at ward six (acute medical unit) and ward 19 (medical/respiratory) of the hospital on 24 March this year.
The Healthcare Inspectorate Wales report considered the general environment of the hospital to be of an "acceptable standard of cleanliness", with public corridors and walkways free from clutter and inappropriate items.
However, the standards of cleanliness on the two wards inspected were criticised, with ward six "poor" and ward 19 "sub-optimal".
Examples highlighted on ward six included clean items being stored in the "dirty utility", which is considered unacceptable because of the potential risk of contamination.
Equipment on the ward was generally found to be dusty including the electrocardiography machine, fans and the resuscitation trolley.
The medicine trolley was also said to be "visibly dirty", which was considered "unacceptable".
On ward 19, the bathroom was being used to store "inappropriate items" such as air flow mattresses and a raised toilet seat.
Concerns were also raised about commodes that had not been cleaned to an acceptable standard and urinal bottle holders hanging from a sharps container.
Equipment on ward 19 was generally found to be dusty including the medicine and the resuscitation trolley.
Conversations with staff on both wards indicated they had not all received infection control training within the last 12 months.
However, staff on the acute medical unit were found to generally have "a good knowledge in relation to infection control".
Cwm Taf Health Board said: "We acknowledge the content of this report and fully recognise the findings of HIW.
"An action plan has been implemented and actions have been taken to remedy the situation.
"The Cwm Taf Health Board will continue to monitor the situation and we are committed to working with HIW to ensure the highest of standards are achieved and maintained."