Parking row over county council offices in Banbury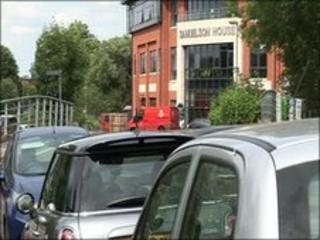 Workers at a council office in Oxfordshire say a lack of parking facilities is causing tension with local residents.
Employees at Samuelson House said their cars had been smeared with dog faeces and eggs after parking on other roads.
There are 55 spaces available for 300 workers at the base on Tramway Road, which contains social care teams.
Oxfordshire County Council said staff had been told not to park in residential areas.
One worker, who did not wished to be named, said the council knew about the potential problem of not enough parking spaces when the building was opened in February.
They said: "We raised the parking issue before the building was built, but the council didn't take those concerns on board.
"Some of us have had our cars egged and even had dog faeces put on our door handles."
"It's causing us a lot of stress and anxiety."
Caroline Raine from Unison said the situation was unacceptable.
She said: "These are people working in areas such as child protection and they need to be able to rush off as soon as they get an emergency call out, not spend 20 minutes walking to a car park and sorting out the money at the ticket barrier."
In response, Oxfordshire County Council said in a statement: "The county council has some onsite parking for staff who need to travel and other staff have been instructed not to park in residential areas.
"The council wishes to be a good neighbour and continues to re-iterate to its staff that local residents are concerned about these parking issues."
"We are only aware of an isolated incident as regards residents taking direct action against a vehicle of a council worker."