'Wrong' footage used in TV show about Lawrence Weston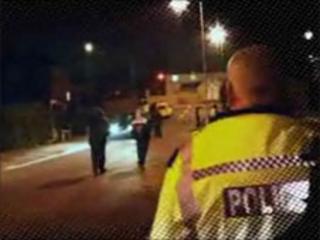 The producers of a BBC programme about a housing estate in Bristol have said footage shot in a neighbouring area should not have been included.
The Estate We're In is being broadcast on BBC One and looks at social issues in Lawrence Weston.
Spokesman for independent production company Twofour said it was never its intention to mislead the audience.
Pc Shaun Underwood, who featured in the show, said crews knew they had been filming in a different area.
He said: "They came out with me in Lawrence Weston for a couple of hours.
"I think in their words they 'got a bit bored' and weren't getting any footage.
"I think they were looking for anti-social behaviour to film but there wasn't many people about in Lawrence Weston that night.
"I then dropped them off at Southmead police station.
"They knew they weren't in Lawrence Weston because I told them on the night I was going to drop them off with another unit.
"They said they 'weren't getting what they wanted' in Lawrence Weston so they wanted to go outside [the area]," Pc Underwood added.
In the film troubleshooter Silla Carron, who is credited with turning around her London council estate from one of the worst in the city, takes up the challenge of transforming a Bristol estate that has lost its sense of community.
Twofour spokesman, Tim Jackman, added: "It was never our intention to mislead the audience and we apologise that it appears we have done so.
"It has now been brought to our attention that some of the shots filmed for the programme that evening while on patrol were from a neighbouring area and we accept that the footage should not have been included in the programme."