Raoul Moat search: PSNI send vehicles to Northumbria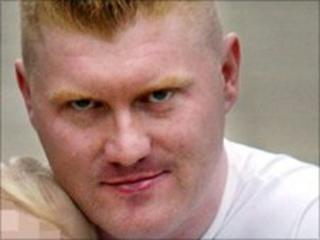 The PSNI has sent 20 armoured cars to England to be used by police searching for suspected armed killer Raoul Moat.
Police in Northern Ireland have more armoured cars than any other UK police force because of the terrorist threat.
The cars were transported by ferry on Tuesday night and will be available for use in Northumbria on Wednesday.
Police have been searching for Moat since he allegedly shot and wounded his ex-girlfriend, killed her partner and wounded a policeman.
The search has been concentrated on a rural area near Rothbury in the north-east of England.
On Wednesday, police discovered a camp nearby where they believe Moat has been living rough.
A letter addressed to his ex-girlfriend Samantha Stobbart, who he is alleged to have shot, was found at a tent.
Police have offered a £10,000 reward for information that leads to his capture and vowed they would leave "no stone unturned" in their hunt.
In a statement, a spokesman for Northumbria Police said: "We can confirm that we are receiving mutual aid from Northern Ireland, including a number of protected vehicles."