Amazon UK launches grocery sales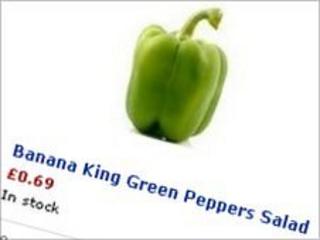 Online retailer Amazon, better known for selling books and electrical goods, has started offering food and drink in the UK for the first time.
Consumers can choose from - and give star ratings for - a range of products from sweets to salad dressings.
It may not be suitable for everyone's weekly shop, however, as some products are only sold in bulk.
Standard-sized packets of Walkers crisps, for example, only come in boxes of 48, priced at £17.50.
A similar number of packets is currently available online from a major supermarket for half that price. But that's just one example picked at random.
Amazon UK said it was "early days" and it would continue to work on expanding its product range.
A spokeswoman told the BBC that consumers would benefit from the opportunity of buying in bulk.
Single peppers are for sale, at 69 pence each, but the website indicated there were only five in stock, encouraging shoppers to "order soon".
Charges
Regular users may be tempted by the unlimited free one-day delivery for an annual fee of £49. Supermarkets typically charge between £4 and £6 but shoppers can choose specific time slots.
Standard Amazon delivery charges apply otherwise, and any products ordered from independent Marketplace suppliers incur their own specific fees and would be sent separately from any Amazon orders.
There are more than 22,000 products available to buy in Amazon's grocery section.
This is slightly more than online supermarket Ocado, which sells Waitrose and John Lewis-branded products.
"Amazon.co.uk's aim is to be the place where customers can find and discover any product they want to buy online," said director of grocery James Leeson.
Retail industry experts Verdict said Amazon's entry into this new arena was "highly unlikely" to significantly shake up the market.
"The long term potential of Amazon's food & grocery offer is likely to be in developing a reputation for bulk and niche purchases and offering a platform for smaller food & grocery suppliers rather than cultivating a significant share of the UK food & grocery market," said Verdict analyst Joe Robinson.
Uncertainty
However, he added that it "could not have come at a worse time" for online rival Ocado.
Loss-making Ocado is planning a stockmarket flotation in which it hopes to raise more than £200m.
It has divided opinion about whether an online-only food delivery service can be profitable, or whether it can only be done by supermarkets with large shop and delivery networks.
One City analyst said Amazon's move - as well as the uncertainty of whether M&S and Morrisons would soon launch their own delivery services - made it difficult to assess the outlook for Ocado and its shares.
Amazon has offered food products in the US for four years, but it does not strip out specific information on grocery sales in its financial results.
Ocado said this week that 2% of total grocery sales in the UK were made online, and put the value of the market last year at £3bn.