Dorset Seafood Festival halts Boot Hill roadworks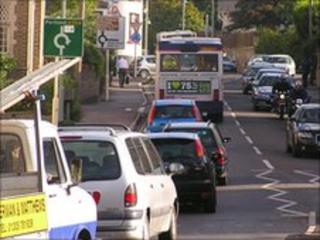 A set of roadworks in Weymouth are to be halted ahead of the Dorset Seafood Festival this weekend.
Boot Hill, where Southern Gas Networks are currently replacing a gas main, will be open to two-way traffic from Friday night through to Sunday night.
Dorset County Council said the surfaces would be reinstated - either filled permanently or temporarily.
After the tourist event, Boot Hill will revert back to one-way traffic flows before the peak Monday morning traffic.
2012 Olympics
Matthew Piles, strategic projects manager for Dorset County Council, said: "With Hope Square closed this weekend for the seafood festival, we knew that the only way to keep traffic moving in Weymouth was to open Boot Hill up to two-way traffic."
Work at Boot Hill is part of a £9m scheme to improve traffic in Weymouth, ahead of the town hosting the 2012 Olympic sailing events with nearby Portland.
The Weymouth Transport Package, which began on 7 June, involves the installation of traffic lights at five roundabouts in the town.
Work is currently under way at Harbour roundabout and Western roundabout.
Once the gas main is replaced at Boot Hill work will then begin there as part of the Transport Package.