Boy attacked over 'Gaelic bag'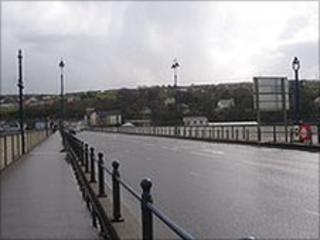 The mother of a 12-year-old boy attacked in Londonderry on Tuesday has said he was targeted because he was carrying a Gaelic football bag.
Aidan McGinley was walking over the Craigavon Bridge towards Carlisle Road at about 1130 BST when he was confronted by two men.
Aidan said one man punched him to the ground, then "booted" him twice.
Mrs McGinley said her son was "shaking and traumatised" when he returned home.
The white jacket he was wearing during the attack was covered in blood from being punched in the nose
Police have described the attack as "unprovoked".
One of the attackers was wearing a black, hooded jacket and black training bottoms. Police have appealed for any witnesses to contact them.