Sir Elton John to focus on making albums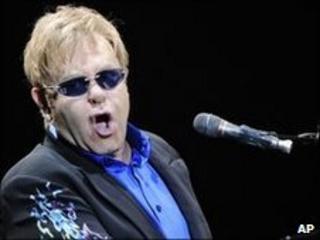 Sir Elton John says he is moving on from making singles to concentrate on making "records that fit my age".
"In the 70s, 80s and 90s, the record companies said you had to have a single. I think I've fulfilled my brief," the 63-year-old said.
He said he was not going to be in the singles chart "very often any more".
He was speaking at an event in Notting Hill, London, to promote his new album with keyboardist Leon Russell.
"I don't have to make pop records any more," he told veteran writer and broadcaster Paul Gambaccini.
"The singles chart is not one I'm going to be in very often any more, so my view is to make records that fit my age.
"I don't think I'm going to do Crocodile Rock any more."
'Musical god'
A spokesman for Sir Elton said the singer, whose UK number ones include Sacrifice and Are You Ready for Love, was not "going to go out of his way" to release any singles in the future.
Sir Elton last had a hit single in the UK in July 2005 with Electricity, from the stage show Billy Elliott, which went to number four.
The singer has collaborated with Leon Russell, 68, on their album The Union, due for release in October.
The pair, who played together in the early 1970s, composed tracks for the album with Sir Elton's longtime co-writer Bernie Taupin.
Sir Elton has said that, when he and Taupin first went to the US in 1970, they were "obsessed by Leon's music and looked up to him as some kind of musical god".
Russell has played with artists including John Lennon, The Beach Boys and The Rolling Stones.