Puppies stolen in break-in at Scottish SPCA dog home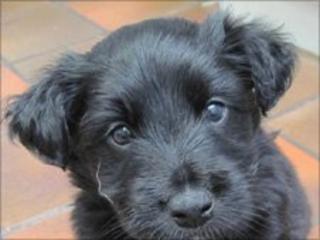 An animal charity is appealing for help after thieves stole two puppies from its re-homing centre in Glasgow.
The Scottish SPCA said two men took the dogs after breaking in to its animal rescue base in Cardonald at about 0100 BST on 2 July.
Police have arrested one of the men involved in the break-in and recovered one of the puppies.
The missing puppy is male, mainly black in colour with some white, six-weeks old and of a collie-cross type.
Centre manager Peter Fleming said, "We believe that the puppies may have been taken with the intention of selling them on.
"We are obviously concerned for the welfare of this pup and very keen to see him returned to us safe and well.
"If anyone is sold or offered a puppy that matches this description, we would urge them to get in touch with police."