Rescued Amersham foal up for adoption in Norfolk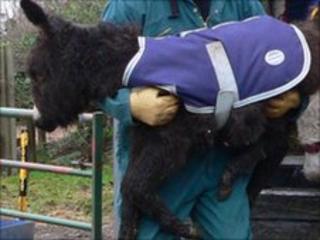 A foal rescued from a Buckinghamshire horse trader jailed for cruel treatment has been put up for adoption.
More than 100 animals were found emaciated, dehydrated, starved and seriously ill at Spindle Farm in Amersham in January 2008.
Photographs of foal Esther were used across the country to illustrate the state of neglect the animals had suffered.
She was recovered at Redwings, Norfolk, and can be adopted for £12.50 a year.
Esther is living at Redwings' Hapton headquarters near Norwich but will be moving for the summer to the charity's Caldecott Visitor Centre near Great Yarmouth.
Fund-raising manager Gemma Carnell said: "The public adored little timid Esther at the time of the rescue so she received many kind letters as well as gifts.
"We were touched by the outpouring of love for her.
"We wanted to do something so people could keep in touch with her and feel as if they were helping."
James Gray, 46, of Amersham, was sentenced to a 26-week jail term when he was found guilty of animal welfare offences.
Gray absconded during a court hearing and when he was caught two weeks later was jailed for a further eight weeks.
Gray and his teenage son, James Gray Jnr, were found guilty of 11 charges each under the Animal Welfare Act 2006 after a trial last year.
Two of the charges were dropped when they launched an appeal following sentencing last June.
James Gray Jnr, 17, was acquitted on two further charges following the appeal, but all other convictions against him and his relatives were upheld.
Gray's wife, Julie, 42, and daughters, Jodie, 27, and Cordelia, 21, had each been found guilty of two animal welfare offences.
All of them were banned from keeping horses, ponies and donkeys.
Gray was banned for life, while his wife, son and daughters were each banned for 10 years.