CRU climate scientists 'did not withhold data'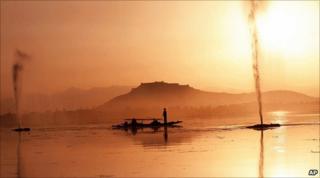 Climate scientists at a top UK research unit have emerged from an inquiry with their reputations for honesty intact but with a lack of openness criticised.
The Independent Climate Change Email Review was set up by the University of East Anglia (UEA) after more than 1,000 e-mails were hacked from its servers.
Climate "sceptics" claimed the e-mails showed that UEA scientists manipulated and suppressed key climate data.
But these accusations are largely dismissed by the report.
The review found nothing in the e-mails to undermine Intergovernmental Panel on Climate Change (IPCC) reports.
The review, chaired by former civil servant Sir Muir Russell, has spent months reading submissions sent in by climate scientists and their critics and interviewing key players, notably scientists within the university's Climatic Research Unit (CRU).
It concludes that "their rigour and honesty as scientists are not in doubt".
However, it says "there has been a consistent pattern of failing to display the proper degree of openness", notable over complying with Freedom of Information (FoI) requests.
CRU scientists were too quick to dismiss critics from outside their own circles, it says.
Sir Muir said the methods the inquiry team used ought to allay fears that this was a whitewash.
"It's inevitable that people who've made up their minds (beforehand) have made up their minds," he said.
"But we haven't ducked the issues... we've gone to the heart of the issues to resolve them as best we can."
Edward Acton, UEA vice-chancellor, said the review should "finally lay to rest the conspiracy theories, untruths and misunderstandings that have circulated.
"We hope this exoneration of UEA climate scientists and their research collaborators around the world, some of whom have suffered considerably during this experience, will be widely reported."
He said the university accepted the inquiry's criticisms on lack of openness and compliance with FoI legislation, and that he had written to all staff at the university reminding them of their responsibilities.
Meanwhile Professor Phil Jones, the former CRU director at the centre of many of the allegations, has taken up the new post of director of research within the unit.
Professor Acton said this would allow him to continue his research while others shouldered more of the administrative burden, including taking primary responsibility for FoI requests.
Dr Benny Peiser, director of the Global Warming Policy Foundation, an influential sceptical think-tank, said that the report was a "damning indictment of the university's handling of freedom of information requests".
He told BBC News: "There is clearly strong evidence of mishandling of the requests [by the CRU] and strong criticism of its failure to provide legitimate information.
"I don't think the university can just claim that this is a vindication."
Dr Peiser added that that the issue would "not go away with this report".
"We (the Global Warming Policy Foundation) have now commissioned our own inquiry into the way these three inquiries have been set up and run," he said. "I don't know anyone among the critics who has been swayed by the first two."
But Gabi Hegerl from the University of Edinburgh, a researcher who has regularly worked with the CRU team, told BBC News she was delighted that the "nightmare" was over for Phil Jones and his colleagues.
"I am also very pleased that the report concluded it found nothing to undermine the IPCC reports.
"The IPCC has worked hard to represent the scientific findings about climate change as clearly as possible and to treat uncertainties rigorously," she said.
'Unfounded allegations'
The e-mails released last November amounted to about 0.3% of the material on the hacked UEA server, the panel said.
They explained that the remainder was in the hands of police investigating the breach. However, conditions imposed by the police had made it impossible for the team to go through all the rest of the material.
The e-mails, along with other documents, cover a period dating back to 1997 and were released into the public domain just before the Copenhagen climate summit last year, with some seeing it as a political act designed to destabilise the summit.
CRU produces one of the four most widely used records of global temperature.
These have been key to the IPCC's conclusions that the planet's surface is warming and that humanity's greenhouse gas emissions are very likely to be responsible.
Critics have alleged that the unit's scientists withheld temperature data from weather stations and also kept secret the computer algorithms needed to process the data into a record of global temperature.
The review concludes these allegations are unfounded.
"We find that CRU was not in a position to withhold access to such data or tamper with it," it says.
"We demonstrated that any independent researcher can download station data directly from primary sources and undertake their own temperature trend analysis".
Writing computer code to process the data "took less than two days and produced results similar to other independent analyses. No information from CRU was needed to do this".
Sir Muir commented: "So we conclude that the argument that CRU has something to hide does not stand up".
Asked whether it would be reasonable to conclude that anyone claiming instrumental records were unavailable or vital code missing was incompetent, another panel member, Professor Peter Clarke from Edinburgh University, said: "It's very clear that anyone who'd be competent enough to analyse the data would know where to find it.
"It's also clear that anyone competent could perform their own analysis without let or hindrance."
The university also did not withhold temperature data derived from tree rings, the inquiry concluded.
But access to the data "was not simple until it was archived in 2009".
On one occasion, when presenting a graph combining tree-ring and instrumental data to the World Meteorological Organization, it should have made clearer the way in which the data was combined.
The inquiry found no evidence that CRU researchers distorted the peer review process employed by scientific journals, or unduly influenced IPCC reports by ignoring research papers that contradicted their own findings.
This is the third and most comprehensive review into the CRU issue, and has reached similar conclusions to the previous two.
At the end of March, a report from the House of Commons Science and Technology Committee said the unit should be more open and transparent and must comply with Freedom of Information laws.
And in April, a second inquiry criticised sometimes "messy" practices within the unit and suggested closer liaison with professional statisticians.
But neither found any evidence of malpractice.
Both reviews were criticised in "sceptical" circles as superficial and lacking in balance.
On Monday, a review commissioned by the Dutch government into the IPCC's projections of climate impacts found "no errors that would undermine the main conclusions" - that man-made climate change poses a significant threat in many regions of the world.
Policy change
Lord Lawson, the former UK chancellor and now chairman of the GWPF, said that if scientists wanted to have the respect of politicians, they should be "very open".
"And these people were not open," he told BBC News. "It's quite inexcusable, when governments are being asked to make policy decisions that will affect everybody - hugely expensive policy decisions, if the science on which they are based is covered up."
Climate researcher Dr Chris Huntingford from the UK's Centre for Ecology and Hydrology, said that he was "quietly confident" that the research community would rise to the challenge ever increasing levels of scrutiny.
"The last 20 years has seen a shift, from research in to the global environment being an intellectual curiosity to one of utmost importance," he said.
"For those working in the field, this is rewarding but it also brings new responsibilities."