Pair driving 'cow van' miss out on Pamplona bull run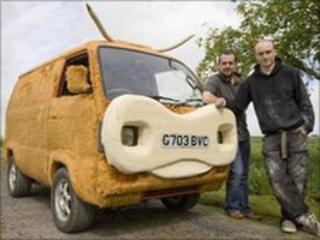 Two men who converted a van to look like a Highland cow before driving it to Spain have missed out on taking part in Pamplona's Running of the Bulls.
Mikey Sandison, 29 and Gordie Mackay, 25, from Caithness, set out from John O'Groats and took part in the Ramshackle Rally across Europe.
The duo were among thousands of people gathering for the bull run after reaching Pamplona a few days earlier.
But they lost their places when police reduced the number of runners.
They had planned to complete the run in kilts.
The two men did manage to attend opening day of the San Fermin festival on Tuesday which Mr Sandison described as "complete madness".
He said: "We got up at five this morning and we were on the course, but at 7.30am the police threw everyone off at the end and with over 5,000 fighting for a place we didn't get one."
Prize winners
Mechanic Mr Sandison and his electrician friend Mr Mackay glued fur used for pillows to their vehicle.
The van made a big impression on other entrants to the Ramshackle Rally.
One of the prize winners - a team calling themselves El Toro - even donated their reward money to the Caithness pair's chosen charity the Alzheimer's Society.
Mr Sandison said: "The response that we have had has been unbelievable. We also won the award for Best Spirit of Ramshakle."
After taking a ferry from Spain to Plymouth, the pair plan to drive from Land's End back to John O'Groats.