Soldier's name added to memorial in north Cumbria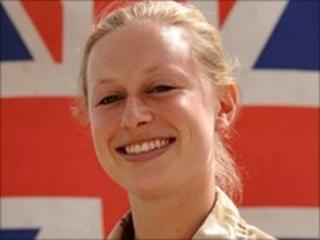 The name of the only British woman to die in active service in Afghanistan has been added to a memorial.
Cpl Sarah Bryant of the Intelligence Corps, was one of four soldiers killed in 2008 by a roadside bomb.
The 26-year-old's name has been added to a memorial gate at Wetheral Church in north Cumbria where she married fellow-soldier Cpl Carl Bryant in 2006.
The memorial, on a recently restored gate, was re-dedicated by the Rector of Wetheral, David Craven, on Wednesday.
The service was attended by members of Cpl Bryant's family, councillors and representatives of the Intelligence Corps.
Cpl Bryant, of Carlisle, was killed not long after she had been told she had been earmarked for promotion.
The Lych Gate Memorial at the church dates from World War I and was recently renovated at a cost of £5,000.