High lead levels found in Slough park after inspection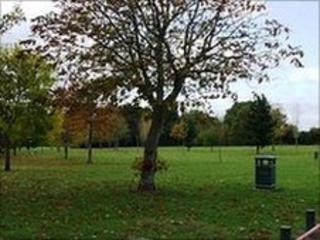 High levels of lead have been found in a park in Berkshire.
The contaminated soil was recently discovered after tests were carried out in Upton Court Park in Slough, Berkshire, the borough council said.
It believes the levels date back to the 40s or 50s. A spokesman said there were no immediate health hazards.
But added there is a potential risk to someone exposed long-term to the soil dust. The council plans to apply for a Defra grant to tackle the problem.
Officers have asked the cabinet to look at a number of options including fencing off the affected area and replacing the contaminated soil.
The work, which will be discussed at a meeting on 12 July, is expected to cost £130,000 and £2.7m depending which course of action is taken.
Nigel Dicker, the council's assistant director for environment services and quality, said: "I want to stress there is no immediate risk to health and the vast majority of the park is not affected by this issue.
"The decision to be made now is how to make the best of the situation, so the park does not lose its character, whilst making sure it is safe to use in the long term."