Jobs 'will go' at education board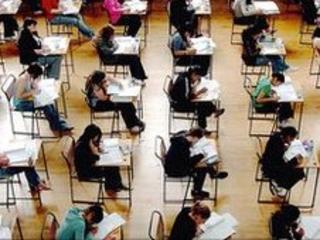 The Western Education and Library Board has said jobs will go as a result of budget cuts.
Out of the board's current annual budget of £235m, two thirds (£158m) is given to schools who have full control of how it is spent.
The board estimates there is a £5m shortfall in the remaining £77m which is controls.
The board said this is not enough to fund services like special education, school support and school transport.
The WELB is responsible for the provision of education services in counties Tyrone, Fermanagh and Londonderry.
The board's assistant chief finance officer, Stan McIvor, said they would need extra money to help reduce staff numbers.
He said the WELB would need £1m to help implement the current cost reduction programme to streamline management and administration, taking posts out of the system.
"People will express an interest in taking up voluntary retirement; to do that the board needs the funding for staff leaving as they are entitled to redundancy," said Mr McIvor.
'Curtail spending'
However, he stressed the job losses would not affect school staff, but people working with the board.
"Part of the challenge is, although we would be releasing staff from the system, that the board would still be equipped and able to deliver the services necessary," he said.
"There will be some parts of the cost reduction package that inevitably will have some impact on the service schools receive.
"The board, as part of its reduction package, is forced to curtail spending on its planned maintenance programme, and of course that will have a knock-on consequence for a number of schools."
The board has reduced its maintenance budget by about 35%, but said it would still have the money to carry our essential response maintenance.
The cost of school meals is also set to rise.
"We've already advised schools that the cost of schools meals will increase by 10 pence per meal, with effect from September," continued Mr McIvor.
"This won't affect children who already have an entitlement to free school meals."