University jobs 'on the line', says union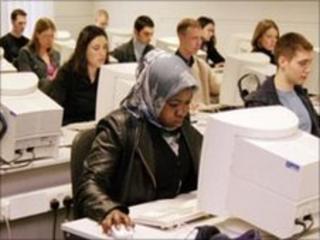 Thousands of people working for universities in England could lose their jobs if ministers press ahead with 25% funding cuts, a union warns.
Analysis by the University and College Union concluded that 22,584 jobs - academic and otherwise - would be lost.
It warned that the quality of students' university experience would be reduced.
Chancellor George Osborne announced in last month's Budget that government departments whose budgets are ring-fenced would face spending cuts of 25%.
This includes the Department for Business, Innovation and Skills (Bis) which oversees universities.
The union said 10,163 academic staff could be at risk and 12,421 jobs in areas such as IT support, libraries, student counselling, careers advice, press offices and catering could be axed.
The sector currently employs the equivalent of nearly 262,000 full-time employees, the union said.
The UCU said its estimates were "conservative" and the impact of funding cuts could be worse.
Calculations
When making its calculations, the union took the £6.65bn allocated to universities for 2010/11 by the Higher Education Funding Council for England (Hefce) and calculated that a 25% cut would equate to £1.66bn.
It then calculated that, with staff costs taking up an average of 57% of universities' Hefce grant, staff costs would be reduced by nearly £947m.
With the average wage for university workers standing at nearly £42,000 (according to the annual survey of hours and earning compiled by the Office for National Statistics), the UCU arrived at its conclusion that 22,584 jobs would go.
But the union said the figure could be higher as universities would find it easier to cut staff than other costs, such as rent and fuel bills, which are relatively fixed.
Universities had already been told they must save £200m this year, on top of savings totalling around £1bn over the next few years.
'Fewer support services'
UCU general secretary Sally Hunt said the scale of the cuts was "unprecedented" and would have an "undeniable impact on the student experience".
"Student to staff ratios, which are already high, will become some of the highest in the developed world," she said.
"Lecturers that survive the cull will have less time to give individual students as they pick up the workloads of former colleagues and there will be fewer support services for students.
"The government will effectively be asking students to pay more for less at a time when our international competitors are investing in higher education."
The president of the National Union of Students, Aaron Porter, said lower staff to student ratios would lead to a worsening experience for students.
"It would be outrageous for the government to consider asking them to pay even more to get a university education especially if quality is worsening.
"Graduates will be the drivers of our economic recovery and cutting student numbers will inevitably lead to a poorer standard of education.
"We currently have a world leading education system but if the government undervalues it we will lose the innovation and diverse skills that the UK economy is built on."