World Cup exit sparks domestic abuse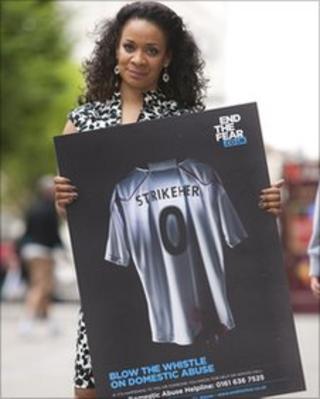 Domestic violence on the day England crashed out of the World Cup shot up by 16%, Greater Manchester Police said.
There were 353 reports of domestic abuse across the region on 27 June - the second highest number in the space of 24 hours this year.
Over the same time period in 2009 there were 304 incidents.
Assistant Chief Constable Terry Sweeney said he was "pleased" by the number of people who had found the courage to come forward after assaults.
He said one of the reasons was the End the Fear campaign, which was fronted by X-Factor and Happy Mondays star, Rowetta Satchell.
After being subjected to domestic violence herself in the past, she stressed the need for victims to report incidents to the authorities and get the necessary help and protection.
A photograph of a football shirt smeared in blood was used to promote the message.
Ms Satchell said: "I've been in a violent relationship and know how hard it can be to get out.
"This campaign aims to make sure that anyone suffering knows how to get the support they need to leave an abusive relationship and start re-building their lives."
Mr Sweeney added: "I also want to send a clear message to offenders that there is no excuse for domestic abuse at any time and we will look to ensure that those responsible are caught and brought to justice."