Mardi Gras planned for Anglesey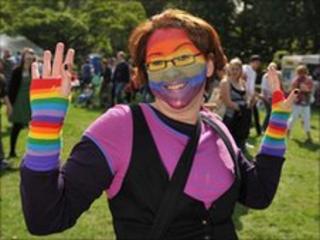 A lesbian, gay, bisexual and transgender Mardi Gras is being planned for north Wales for the first time.
Gay community group Mesmac North Wales say the two-day carnival at the Mona showground on Anglesey will be held in April next year.
Organisers say they want the carnival to become an annual event on the north Wales gay scene.
Elsewhere in Wales Cardiff has an annual Mardi Gras which celebrated its 10th anniversary last year.
"It will be great fun and we expect both gay and straight people to come along," said Keith Parry from Mesmac.
The group was set up in north Wales in 1997 to offer support to the gay community, to provide a place to organise social events, and to promote safe sex for everyone.
"The music side is being sorted out for us at the showground, we've just said who the gay community would like to see take part.
"We've been given the rights to sell stall spaces and also have the sole-right to go around with collection boxes which will raise funds for Mesmac," he added.
In addition to the Mardi Gras a sponsored walk up Snowdon has been arranged to raise funds for Mesmac.
Three drag queens plan to hike up the 3,560ft (1,085m) peak in full regalia on 7 August.
Mr Parry said there was a need for the gay carnival event in north Wales.
"When the Three Crowns in Bangor became a gay pub seven years ago people said it would never last, but it's still going strong," he said.
"With the Mardi Gras we aren't quite sure how many people will come along, but we expect it will be around 1,000."