Mexico town evacuated as dam threatens to overflow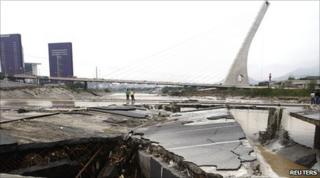 Some 18,000 people have left a town in northern Mexico where a nearby dam is threatening to overflow.
Authorities in Ciudad Anahuac opened some of the dam's floodgates to ease pressure but say the situation is still critical.
The region has seen heavy rainfall in the wake of Hurricane Alex which struck last week, leaving 12 people dead.
Officials on both sides of the Mexico-US border are monitoring rising water levels on the Rio Grande.
A bridge linking Laredo in Texas to Nuevo Laredo in Mexico is likely to be closed by midnight local time on Wednesday as the Rio Grande crests.
In some areas, the river is 6m (20ft) above normal.
On Tuesday, residents of Ciudad Anahuac were taken to shelters in nearby towns and cities.
The Venustiano Carranza dam, which is located 70km (43 miles) away, is full after several days of heavy rain following Hurricane Alex.
Authorities have opened 20 floodgates, releasing 600 cubic metres per second into the Salado River, a tributary of the Rio Grande.
"It was preferable to have controlled flooding than having the whole town disappear," the town's mayor, Santos Garza Garcia, told the Associated Press. "The situation is still very critical."
North-eastern Mexico has suffered widespread flooding over the past week.
The usually dry Santa Catarina river that runs through the centre of Monterrey turned into a raging torrent, flooding major highways and paralysing Mexico's third-biggest city.
A week on, some 130,000 people remained without drinking water.
"We are working without pause to try to re-establish water services," said Rodrigo Medina, the governor of Nuevo Leon state.
The International Boundary and Water Commission, a bi-national body, has also been releasing floodwaters from the Amistad Dam into the Rio Grande at the rate of 35,000 cubic feet per second (1,000 cubic metres per second).
Officials said releases from the dam, which is located by the border at Del Rio in Texas and Ciudad Acuna in the Mexican state of Coahuila, were likely to continue for days to come.
The IBWC is urging people who live in the Rio Grande Basin to monitor conditions for possible flooding.
Alex was the first hurricane of the 2010 Atlantic season, and the first to appear in June since 1995.