Scots cities 'top UK attractions'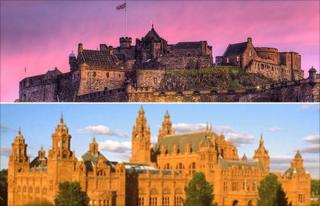 Scotland's two largest cities are among the UK's top tourist attractions.
Edinburgh and Glasgow are the second and fifth most popular urban destinations in the UK, according to figures for tourist body Visit Britain.
Both cities also make the top five, along with Inverness, for purely holiday trips alone.
Visit Britain said the figures proved "an astonishing transformation" had taken place in UK cities which were once known as industrial heartlands.
An analysis of overnight stays by overseas visitors in UK cities between 2006 and 2009 showed that London came out as top destination with an average of 12 million trips each year.
Edinburgh was second with 1.3 million, followed by Manchester on 900,000, Birmingham on 737,000 and Glasgow on 687,000.
For purely holiday trips London again dominates with 6.6 million visits, with Edinburgh in second place on 771,000.
However, Glasgow and Inverness also make it into the top five with 312,000 and 180,000 visits respectively.
Patricia Yates, communications director for Visit Britain said: ''This survey confirms an astonishing transformation of our industrial heartlands has taken place.
"They have become dynamic, stylish international destinations that are increasingly beloved of foreign visitors.
"Manchester has become the home of Brit Cool, Birmingham wows people with its world class cultural scene, Liverpool pulsates as the home of the Beatles and Liverpool FC, and Glasgow with its unique architecture, countryside and coastal views has become Scotland's style capital. They have become a joy for tourists to discover.''