Shinfield fears over Reading university's homes plan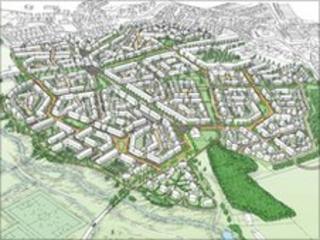 Residents have raised concerns over plans by the University of Reading for 1,200 new homes.
The proposal also includes a new primary school, community facilities and a relief road at the site to the south of the M4 in west Shinfield.
But Shinfield Residents' Action Group (SRAG) says the current infrastructure cannot cope with new homes.
The university said it has spent years consulting over the plan, which will help ease the council's housing needs.
Wokingham Borough Council had been drawing up plans for 10,000 new homes over the next 15 years, which included 2,500 earmarked for south of the M4.
But plans have been thrown into doubt after the coalition government abolished Regional Spatial Strategies.
The university is pressing ahead with its own plan.
Science park
Chris Hossack, vice-chairman of SRAG, said residents were not against new developments.
"We need to look closely at these plans but there needs to be serious consideration to the infrastructure," he added.
"A new primary school and some community facilities won't be enough to cope with 1,200 new homes, what about sewage and the roads?"
Prof Gordon Marshall, vice-chancellor of the University of Reading, said: "These planning applications reflect many years of ongoing consultation with the communities of Shinfield, Spencers Wood and Three Mile Cross.
"The proposals will help meet the housing need that exists in Wokingham and respond to Wokingham's own core strategy which identified a need for new housing and community facilities in the area south of the M4."
The university said any proceeds from the sale of land to developers will be re-invested into "furthering our excellent teaching and research".
The plan has been submitted to Wokingham council and will be considered by councillors at a later date.
The university is also developing plans for a wind turbine on land next to the M4 in Rushy Mead and has been granted outline planning permission for a Science and Innovation Park in Shinfield.