RNLI Future Crew teenager in real rescue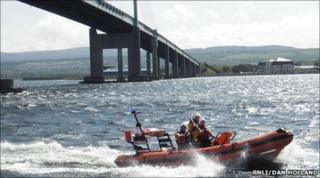 A girl taking part in an RNLI training project used skills she learned from lifeboat crew to give first aid to a teenager who was barely conscious.
Rebecca Haughey, 15, from Invergordon, had been on the RNLI Future Crew Youth Activity Scheme.
Following an announcement on extending the project, she revealed she had used training given to help another girl.
After trials in the Highlands and north England, RNLI Future Crew is to be rolled out across the rest of the UK.
Available to 14 to 16-year-olds, it aims to encourage young people to consider volunteering as lifeboat crew.
Rebecca said she got involved because of her interest in boats.
She was taught navigation, but also lifesaving techniques.
"I have already used some of my new first aid skills to help a teenage girl who was barely conscious and wasn't breathing properly," she said.
"I cleared her airways and put her into the recovery position and she started to come round as first aiders and an ambulance arrived on scene."
The teenager added: "Future Crew has given me some good preparation training and great experiences.
"My friends and family were impressed that I attended the Queen's Garden Party at Buckingham Palace and met Prince Charles and Camilla, as part of a celebration of UK youth schemes."
The scheme began 18 months ago and was run as a pilot at Loch Ness, Kessock and Invergordon in Scotland and at Fleetwood and Morecambe in England.
In the trial, shore-based training was held at lifeboat stations every week with an exercise on water once a month.
Tim Robertson, RNLI youth activity scheme manager, said one of the aims of the project was to give young people life-changing opportunities.
He added: "It has now been agreed that up to two more cluster groups can be formed every year for a five-year period so that by 2014 there will hopefully be 100 plus Future Crew volunteers being trained at 30 stations."