Blackburn 'honour killing' suspect 'hiding in Scotland'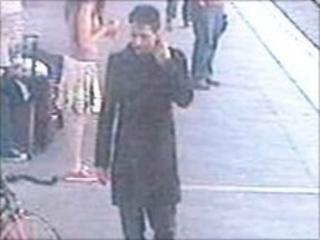 A murder suspect on the run from Lancashire Police is being harboured by associates in Edinburgh, detectives believe.
Naeem Majid Butt, 37, of Blackburn left the town for Scotland following the fatal stabbing of a 24-year-old man in an alleyway on 22 June.
Saheel Ahmed, of Blackburn, is believed to have been the victim of an honour killing.
The married man was killed near Warrington Street, in Little Harwood.
Detectives investigating his murder have released CCTV stills of Mr Butt that were captured as he took a train from Manchester Piccadilly to Edinburgh Haymarket on the day of the murder.
'Brutal murder'
Det Ch Insp Mark Gray, of Lancashire Police, said: "We believe that Naeem Butt is being harboured by associates within Edinburgh who are themselves committing a criminal offence and will be liable to arrest and prosecution.
"I am in Edinburgh today working with my colleagues from Lothian and Borders Police as this murder investigation continues.
"This was a brutal murder and I would urge Naeem Butt to surrender himself to the police and for anyone who knows of his whereabouts to come forward."
Ch Insp Tony Beveridge, from Lothian and Borders Police, said: "Officers have this morning been involved in raids on addresses in Edinburgh as part of the search for Naeem Butt.
"We have been working closely with our Lancashire colleagues in order to bring this search to a successful conclusion and we have significant resources in place as part of this effort.
"At this time there is nothing to indicate that Naeem Butt presents an immediate risk to the public.
"However, we would advise anyone who sees him not to approach him, but to contact police immediately."
Butt is described as 5ft 10ins tall, of medium to slim build with dark hair and brown eyes.
He has a piercing in both ears, as well as a number of distinctive tattoos, including a scorpion and peacock on his left arm and a cobra on his left hand.