Dutch celebrate football World Cup semi-final success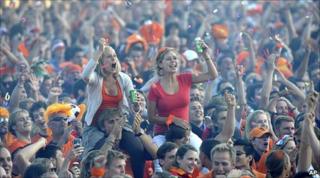 For Dutch fans not lucky enough to be in Cape Town, Museum Square in central Amsterdam was the place to be.
They came in their thousands to watch the match on what local authorities described as "the biggest television screen in Europe".
Conservative estimates said there were 60,000 fans packed into the square. I wouldn't be surprised if there were more, and of course nearly everyone was dressed in orange.
There were orange shirts, orange dresses, orange all-in-ones. I even saw someone arrive on a customised orange motorbike.
A sea of orange stretching as far as the eye could see - it was quite a sight.
Many Dutch fans I spoke to before the game told me they were nervous about the result.
They did not want to get their hopes up because they had been let down by the national team too many times.
Deafening cheer
The pre-match entertainment helped them with nerves, as the crowd danced in expectation to the Black Eyed Peas "Tonight's gonna be a good night".
Suddenly you could feel Dutch fans were beginning to believe.
The match proved to be a roller coaster of emotions for the crowd. It started well enough. Giovanni van Bronckhorst's goal was greeted by a deafening cheer.
Orange flares were set off, ticker-tape filled the air. The nerves had been settled. But then before half-time, stunned silence, as Diego Forlan equalised.
Uruguay were threatening to spoil the party. At half time tense Dutch fans paced about, clearly concerned about the second half.
They had no reason to be, as goals in quick succession from Wesley Sneijder and Arjen Robben gave the Netherlands some breathing space.
The Dutch could start to dream. There was to be one more twist. A late Uruguay reply made it an unbearable final few minutes.
The final whistle was greeted with jubilation, but mainly a sense of relief.
Seeking revenge
More than 30 years after finishing World Cup runner-up twice 1970s - the Netherlands lost to West Germany in 1974 and to Argentina in 1978 - the Dutch had finally booked their place in another final, and the fans were going to make sure it was some party.
"This is like a dream, I am just enjoying the moment because it doesn't get any better than this," one fan told me.
"My dad is always telling me about the great team of the 70s, and it gets me down," he said.
"But now I can turn back to him and say I have seen the 2010 team. I now know what it feels like to have my team in a World Cup final."
I was hugged by people I had never met. I was also drenched in beer, but it was just a pleasure to see the joy on the fans faces.
The party moved on to the bars and clubs of Amsterdam. Car horns filled the air. The singing and dancing will last for a few days yet.
There is no doubt who the Dutch now want to meet in the final: Germany. They want to avenge defeat in the 1974 when, West Germany as it was then, won 2-1.
"Bring on the Germans," one fan said. "They always seem to beat us but we want revenge. They are our biggest national rivals and to beat them in the final would be the best feeling in the world."
The fans will be back in Museum Square on Sunday to cheer on their team.
Organisers are expecting more than 100,000 to turn up for the final. As they say in these parts, "Hup Holland Hup".