Russia and US said to be planning spy exchange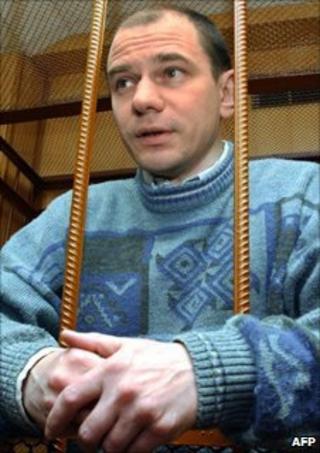 A prisoner swap is being planned to bring 10 suspected Russian spies back from the US, say Russian reports.
Igor Sutyagin, a man jailed in Russia for spying for the CIA, said he and unspecified others would be exchanged, his family said.
Neither Russian nor US authorities have commented on reports of the swap.
Meanwhile, a New York court unsealed an indictment against the 10 alleged spies and an eleventh suspect who is on the run after escaping custody in Cyprus.
The indictment came hours after a court hearing in the US state of Virginia for three of the suspected spies was postponed and orders were issued to transport them "promptly to the Southern District of New York for further proceedings".
The federal indictment does not change the charges already filed against the group, which is accused of laundering money and acting as unregistered foreign agents.
Justice Department spokesman Dean Boyd said: "As the government indicated would happen when the case began, the defendants are being transported to the Southern District of New York to face the charges against them."
He added: "Today's indictment is the next step in that process."
'Illegal agents'
In a move which fuelled speculation about an imminent swap, a top US diplomat met the Russian ambassador to Washington.
No details were given of the talks between undersecretary of state for political affairs William Burns, who is a former US ambassador to Moscow, and Ambassador Sergei Kislyak other than the fact that issue of spies came up in the meeting.
Igor Sutyagin was quoted as saying he expected to be put on flights to Vienna, then London, on Thursday.
No reason has yet been given for the transfer to New York, where the other seven suspects are in custody.
The 10 suspected Russian spies were arrested last month on suspicion of working as illegal agents for the Russian government.
An 11th suspect was arrested in Cyprus but went missing after being released on bail.
On Wednesday, the New York Times quoted sources close to the case as saying the federal government was seeking a rapid resolution.
'No choice'
Igor Sutyagin, a nuclear weapons specialist, is serving a 15-year jail sentence for passing information to a UK firm allegedly used as a front by the CIA.
According to his brother, Dmitry, he said he had been told by Russian officials that he would be released and sent to the UK in exchange for an unknown number of spies.
The officials met Sutyagin on Monday at a prison in Arkhangelsk, northern Russia, and US officials were at the meeting, the brother said.
Sutyagin said he had been made to sign a confession, although he maintains his innocence and does not want to leave Russia, his brother added.
After Monday's meeting, the prisoner was reportedly moved to Moscow's Lefortovo prison.
Anna Stavitskaya, a lawyer acting for Sutyagin, told Reuters that her client had agreed to be swapped "as he had no other choice left".
"He knew that otherwise his whole life would be broken but he still insists he is innocent," she said.
Russian media quote a member of Sutyagin's family as saying he had seen a list of names of prisoners likely to be swapped by Russia, including Sergei Skripal.
Skripal is a Russian military intelligence (GRU) officer convicted of spying for the UK in 2006.
The 11 alleged members of the Russian spy ring in the US are accused of conspiracy to act as unlawful agents of a foreign government.
The crime is less serious than espionage but carries a sentence of up to five years in prison.
Two of the suspects, Mikhail Kutzik and Natalia Pereverzeva, had been living as a couple with their children in Arlington, near Washington DC.
They admitted being Russian citizens operating under assumed names.
They and fellow suspect Mikhail Semenko had been due to attend the court hearing on Wednesday.
Meanwhile, the US government said it would appeal against a New York judge's decision to allow one suspect, Vicky Pelaez, to be released on bail.
Ms Pelaez remained in custody on Wednesday as bail arrangements were still being completed.