Linamar car plant in Swansea closing, says firm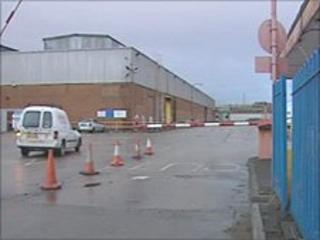 A car components plant near Swansea is to close with the loss of 200 jobs, it has been confirmed.
Linamar says it is starting a 90-day consultation with unions but plans to move manufacturing elsewhere.
The Unite union is demanding "urgent talks" with the company in an attempt to explore ways to keep the plant open and save jobs.
There has been a factory on the site off Fabian Way since the 1960s.
It was formerly owned by Ford and Visteon before being acquired by Canada-based Linamar Corporation in 2009.
The plant makes components for the automotive industry.
In a statement on Wednesday, Linamar's Chief Executive Officer, Linda Hasenfratz said: "We deeply regret the impact that this decision will have on our employees, their families and the community.
"Linamar has pursued discussions on an ongoing basis relative to ensuring the facility was in a competitive position for the future.
"However, these discussions ultimately were not successful.
'No viable future'
"It is our intention to start consultations immediately and we are committed to attempting to reach an arrangement that mitigates the impact of these job losses as best possible."
The company said the decision followed an "extensive review" into the prospects of the operations in Swansea.
However, the company stated: "Regrettably, the review has concluded, subject to consultation, that there is no viable future for the operation."
Unite Welsh regional secretary Andy Richards said the union would do all it could to keep it open.
"The closure of this plant at Swansea is a further devastating blow to the local community and the automotive manufacturing sector in Wales which has already suffered greatly from the economic recession," he said.
''Even at this late stage I would invite the company to meet with us, together with senior politicians to explore any possibility of keeping this plant open."
Unite is also calling for government support for manufacturing, and has spoken to First Minister Carwyn Jones and Neath MP Peter Hain, asking for their intervention to keep the site open.
In a statement, Welsh Secretary Cheryl Gillan said: "I have spoken to the local MP about these reports and have already contacted the company seeking urgent information about the future of the plant and its workforce. I have asked to be kept fully informed of negotiations."
'Volatile market'
Canadian company Linamar, which employs 11,000 people worldwide, said when it took over the Visteon plant in July 2008 that it hoped it would mark a "springboard into Europe".
The firm announced plans to produce engine parts, such as the camshaft.
However, at the end of 2008, the group reported a huge drop in sales for the third-quarter of the year, blaming falling demand from car companies.
It led to them calling for 208 voluntary redundancies from its then-worforce of 358, saying it was facing an "unpredictable and volatile market".