Wrexham school strikes over pay threats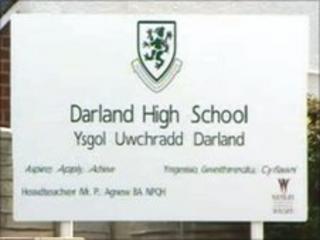 Teachers at a Wrexham secondary school are striking over what their union claims is a threat to cut wages.
The NASUWT says its staff at Darland High School face deductions for not attending meetings or supervising breaks, in an ongoing dispute.
The union is demanding that the pay threat is withdrawn, or a further four days of action will go ahead.
A strike took place in May over staffing plans, but Wrexham council says this has been resolved.
A statement from the education authority and the school said that there had been no compulsory redundancies as a result of restructuring, and that they had been seeking to end the industrial action that led to the first strike in May.
"During the interim period, significant and substantial efforts have been made to avoid any compulsory redundancies," said the statement.
"Those efforts have been particularly successful."
But the council and school said some staff had continued to engage in the dispute through "non-attendance at staff meetings" and "a refusal to carry out supervision duties".
Letter
The issue led to the school's head teacher writing to those involved in continuing action.
"They were informed that, in the event of them continuing with only partial performance of their contract beyond Monday 28 June, there would be financial consequences," said the joint statement.
The NASUWT said it was ready to call off the strike action, it the threat of wage deductions was lifted.
Chris Keates, General Secretary of the NASUWT said: "Rather than talk, the school management and chair of governors, with the support of the Wrexham Authority, decided to threaten to deduct salary from the teachers on a minute-by-minute basis, despite the fact that they were continuing to teach their lessons and do everything necessary to support teaching and learning.
"Not one minute of teaching time was being lost and pupils were not being disadvantaged."
On Wednesday, the union placed a notice in the Daily Post newspaper over its actions.
"The teachers very much regret having to take this action and for any inconvenience caused," it stated.
"The NASUWT has repeatedly requested that the threat to deduct salary be withdrawn so that a strike could be avoided and pupils continue with their lessons.
"We have also offered to meet with the governing body. None of these requests has been agreed."
The union said that unless the pay threat issue was resolved, it will press ahead with another day of action at the school this week, and a further three days next week.