Beatles label Apple Records to release downloads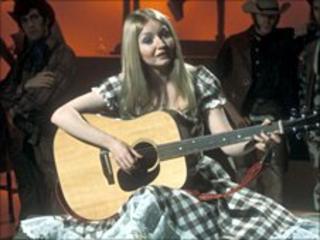 The Beatles' record label Apple is to release material to download for the first time - but the music of the Fab Four will not be included.
Apple has remastered 15 albums, including Mary Hopkin's Post Card, to be released digitally and on CD.
The work of The Beatles has never been cleared for download, partly because of a trademark dispute with iTunes owner Apple.
Earlier this year, Sir Paul McCartney said "one day it's going to happen".
"To tell you the truth, I don't actually understand how it's got so crazy," Sir Paul told BBC Radio 1's Newsbeat.
"I know iTunes would like to do it, so one day it's going to happen."
He said the delay had been down to record company EMI, which distributes the music of The Beatles, adding: "There have been all sorts of reasons why they don't want to do it."
The remastered albums, which also include Sir John Tavener's The Whale and Badfinger's No Dice, will be released on CD and download sites, including iTunes, on 25 October.
Post Card, by Mary Hopkin, includes the 1968 hit Those Were The Days, produced by Sir Paul.
The band set up Apple in 1968 to release their own music and to sign artists they admired.