Ulster Camogie Council 'suspected of fraud'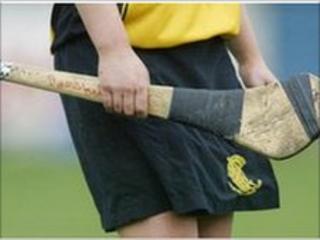 An investigation into grants awarded to the body which funds camogie in Ulster should have been treated as a fraud probe, the NI auditor-general has said.
A whistleblower claimed documentation used by the Ulster Camogie Council (UCC) to claim money from the NI Sports Council was falsified.
It was alleged that the money claimed was more than expenses actually incurred.
A repayment was made by the UCC to the Sports Council following the claims.
An investigation carried out by the Department of Culture, Arts and Leisure (DCAL) revealed that between 2000 and 2008, a total of £48,502 was paid to UCC by the Sports Council.
The auditor-general Kieran Donnelly, said: "Of this, £14,754 has been deemed irregular because UCC were unable to provide evidence of associated expenditure.
"This includes £1,690.50 relating to invoices that were allegedly falsified."
The auditor-general goes on to explain how the Central Camogie Council identified irregularities and repaid £5,469 in January 2008 on behalf of its Ulster branch.
Of the remaining £9,285, the Sports Council was able to vouch for £5,825 after the UCC produced bank statements and issued a clawback for the remainder, which has now been paid.
The information is detailed in a wider report by the auditor-general to the Northern Ireland Assembly.
He also criticised the fact that the Sports Council did not receive audited accounts from UCC for three years between 2004 and 2007 and yet continued to pay grants to it.
The chair of the UCC, Catherine O'Hara, said that it has been under new administration since 2007 and that it had initially raised the issue with the Sports Council back in 2008.
She added that both the Ulster Camogie Council and its governing body had co-operated fully with the Audit Office's investigation.