'Business as usual' in Rothbury as Moat hunt continues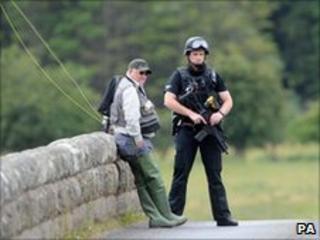 As the hunt for suspected killer Raoul Moat intensified, residents in the small Northumberland market town of Rothbury, which has been at the centre of the search, tried to get back to normal daily life.
It was business as usual in the North East town of Rothbury as shops again opened to customers while armed police continued to keep watch over the town and search the surrounding area.
Marked police cars were parked on streets as a council workman began sweeping ready for another day's trading.
The two-mile exclusion zone put around the town on Tuesday has been relaxed and schools are open after previously being under lockdown.
As the town began returning to normal, Northumbria Police chiefs stressed that the safety of the public in the area remained their "main priority".
Officers have urged people to go about their lives as usual as the search of woodland and countryside around the town continues.
'Carrying on regardless'
Detectives said earlier they believed Moat, wanted in connection with the shooting of his former girlfriend, her new partner and a police officer, may still be in the area.
They revealed they had uncovered a camp where Moat had been living rough near to Rothbury.
Morris Adamson, who runs Rothbury Family Butchers, said he had been hoping for a good day's trade, despite the police activity.
"It's business as usual today," he said.
"Most of my trade so far today has been from the media and the police.
"We're carrying on regardless today."
Residents were told to stay indoors on Tuesday as armed police descended upon the rural, and usually quiet, town.
Jean Phillips, who runs a newsagent with her husband David, described the moment police arrived in the town.
"I was here at work yesterday morning when the police came around and told everyone over Tannoys to get indoors," she said.
"We had shoppers and local residents in here and we must have had about nine people in the shop.
"We had a four-year-old boy with his mum here from 1140 BST to 1700 BST.
"His mum had just picked him up from nursery when the police imposed the lockdown, so she came in here."
Earlier, temporary chief constable Sue Sim described in a press conference how officers believed Moat had been in the town.
She said: "I am well aware this level of police activity can concern people not used to seeing armed officers in their communities.
"This is understandable but it is a proportionate response to ensure the public feel reassured and protected at the same time."