Mosque event in Leeds to mark 7/7 bombings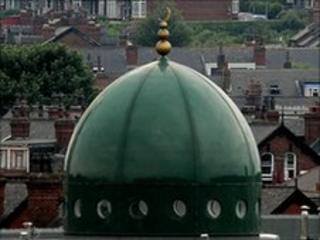 An event has been held in Leeds to mark the fifth anniversary of the 7 July bombings in London.
The event, at the Makkah mosque in Thornville Road, Hyde Park, was organised to remember the victims and highlight the positive contribution Muslims have made to the UK.
A total of 56 people, including the bombers, died in the blasts in 2005. The bombers all had links to Leeds.
An unofficial ceremony also took place in London's Hyde Park.
Leeds Makkah Mosque, together with leading local and national organisations, held the event on Wednesday afternoon.
It included a number of workshops and speeches from politicians, sports personalities, media representatives and entrepreneurs.
Keynote speakers included TV presenter and journalist Kristiane Backer and Greg Roberts, CEO of the Muhammad Ali Center in the USA.
'Tragic bombings'
The Imam of Makkah Mosque, Qari Asim, said: "The event has been organised to remember those who lost their lives in the tragic London bombings on 7/7 and also to remember all those lives that are still being lost throughout the world due to violent extremism.
"The event will also seek to highlight the positive way in which communities have moved forward and have been working tirelessly for a peaceful co-existence."
Greg Mulholland, MP for Leeds North West, said he was "pleased" to attend the event that "highlights the real progress that has been made in bringing the community closer together".
Shadow foreign secretary David Miliband added: "I applaud you for holding this commemorative event, wish you well in your work in the future and hope that we can continue to work together to realise our shared vision of a modern, multi-faith, multi-cultural Britain in which opportunity is equal for all."
On 7 July 2005, the four suicide bombers, Mohammed Sidique Khan, Shehzad Tanweer, Jermaine Lindsay and Hasib Hussain, targeted London's transport system, killing 52 people.
The blast at Kings Cross killed 27 people, 14 people died on the No 30 bus at Tavistock Square, the attack at Edgware Road killed seven and the Aldgate blast killed eight.
At a ceremony in Hyde Park, London, survivors and families of those who lost their lives in the terror attacks laid flowers by 52 steel pillars which represent those killed.