China executes top Chongqing official for corruption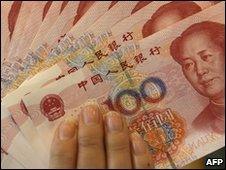 China has executed the top justice official in the city of Chongqing as part of a crackdown on corruption.
Wen Qiang, former director of the Chongqing Municipal Judicial Bureau, was the highest-ranking official charged in connection with the scandal.
He was convicted of accepting bribes, rape and shielding criminal gangs.
Dozens of officials have been prosecuted as part of the clampdown, initiated by Chongqing's Communist Party boss Bo Xilai.
Wen served as the huge municipality's deputy police chief for 16 years before becoming its top judicial official.
According to Xinhua news agency, he was convicted of taking more than 12m yuan ($1.76m, £1.16m) in bribes either in person or through his wife.
He also took bribes to protect five organised crime gangs and, in August 2007, raped a university student.
In May Wen lost an appeal against his death sentence, after the high court said the evidence against him was clear.
His wife and three of his associates were tried alongside him and jailed.
His sister-in-law, Xie Caiping, was also sentenced last year to 18 years in prison, for running illegal gambling dens.
To date more than 90 officials have been prosecuted as part of the high-profile crackdown, which began in the southern city in mid-2009.
It has increased the popularity of Bo Xilai, and is being seen by some as an attempt on his part to secure a spot in the governing politburo.
But despite this high-profile campaign corruption among officials remains widespread, says the BBC's Damian Grammaticas in Beijing.
This worries China's leaders, who are seriously concerned that public anger at levels of corruption is undermining support for the Communist Party.