Aberdeen firm signs trade deal with Chinese developer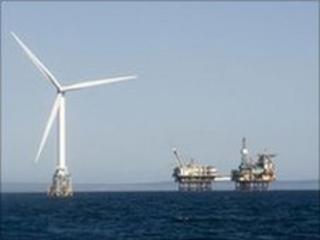 An Aberdeen renewables firm has signed a co-operation agreement with a Chinese company in what has been described as a "first" by the Scottish government.
SeaEnergy Renewables and state-owned energy company Nantong COSCO will work together on steel structures for the offshore wind industry.
First Minister Alex Salmond attended the formal signing in Shanghai on Tuesday during a trade mission.
He said the trip would help generate £100m for the Scottish economy.
The Aberdeen-based firm was recently put for sale by its parent company.
Speaking to BBC Radio Scotland's Good Morning Scotland programme, Mr Salmond said China presented "enormous opportunities" for Scotland.
The first minister is part of a trade mission aimed at improving Sino-Scottish business links in key sectors including renewable energy, tourism, education and textiles.
Included in the delegation were representatives from the Scottish Development International (SDI) textiles mission, the Scottish Council for Development and Industry and VisitScotland.
China is the world's fastest-growing major economy, the third largest in the world behind the USA and Japan, with an anticipated growth rate of almost 10% this year.
Mr Salmond said: "If you asked me to estimate on the three days in Shanghai I'd be very disappointed if there wasn't £100m of investment in the Scottish economy in the very near future.
"Not just as a result of this mission but certainly this trade mission is accelerating that process."
He added: "China is a leading global recovery, so expanding trade with such a major market has to be an important aspect of Scotland's sustainable recovery.
"The opportunities for Scotland are enormous, and our programme in China will be a vital part of realising this potential for the sake of jobs and investment in Scotland."
The visit to Shanghai, Beijing and Tianjin follows a trip to China by Mr Salmond last year.
The Shanghai leg of the trip, where the Scottish delegation is currently based, will focus on the city's Expo 2010 which is expected to attract 70 million visitors.
As well as returning to Beijing, Mr Salmond will visit Tianjin - the birthplace of Scottish Olympic hero Eric Liddell - which now houses many businesses and industries with links to Scotland.