Free camper van parking in Cornwall reviewed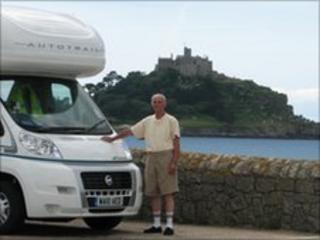 Overnight camping on roads and lay-bys in west Cornwall is being reviewed.
Cornwall Council said it had received complaints about camper vans parking for up to a fortnight for free, stopping others from using the spaces.
One popular area for camper vans to park for free is the sea wall between Marazion and Long Rock near Penzance.
Cornwall Council said it was in consultation with the highways department to find the best resolution.
'Catch-22 situation'
Cornwall councillor Sue Nicholas said: "I've had a lot of telephone calls and emails from residents who are really concerned.
"But its a catch-22 situation, because if you resolve the problem of parking for any length of time it affects other people who call in for just an hour.
"And it's not a problem if it's just for one night, if they've travelled and need a rest."
However, resident Claude Smith said: "My concern is that the camper vans come here and park for a fortnight and the local people just haven't got anywhere to park.
"The is the most beautiful spot in the world - and you can't park.
"I counted 16 camper vans here on Sunday, when there's a camper van site just over there crying out for people to go and park."
Ted Vallis, 82, from Bristol said he parks for a fortnight every year along the sea wall.
He said: "I've been here for a fortnight, and I've got the sea front, and can see straight down into the water."
Mr Vallis said he would continue to take advantage of the free parking until it became illegal.