Sproxton tractor fall toddler died accidentally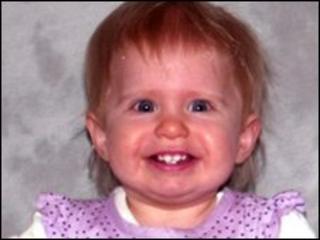 An inquest jury has ruled a verdict of accidental death in the case of the 15-month-old daughter of a top racehorse trainer who fell from a tractor.
Ellie Mae Shaw had been sitting on the knee of her father Derek as he drove a tractor in Sproxton, Leicestershire.
She slipped from his grasp as he was about to open a gate in January.
Ellie was knocked unconscious as she hit her head on a step to the tractor, an inquest at Loughborough Magistrates' Court heard.
The toddler was flown to hospital by air ambulance, but died a short time after arriving there, the hearing was told.
Det Sgt Steven Hutchings said she had been allowed out with her father as work at the stables had finished for the day.
He added: "Mr Shaw said he got in to the cab and placed Ellie on his knee and then reversed it.
"But he had to get through a set of double gates and so he brought it to a halt. He told me: 'Ellie was on my lap. I had to stop the tractor and put her down and I just lost her'. It was at this point he held his arms out in front of him."
Det Sgt Hutchings said there was no evidence to bring any charges against Mr Shaw, his family or staff.
Dr Richenda Dixon, from the Health and Safety Executive, said it would not be prosecuting Mr Shaw as it was not in the public interest.
'Little princess'
Mr Shaw was excused attending the hearing on medical grounds. No other family members were in court.
Concluding the inquest, assistant deputy coroner for Rutland and North Leicestershire Olivia Davison, asked Det Sgt Hutchings and Det Insp Simon Shuttleworth to visit the family and tell them its findings.
She added: "Could you pass on my concern for the emotions which this family must be experiencing?
"It appears this was a tragic accident, the consequences of which they will live with forever. Please could you give them my condolences and sympathy and I hope that they find some peace."
In a statement released after their daughter's death, the Shaws said: "Our little princess Ellie was the most beautiful happy, little girl and the world is now a much poorer place."
Mr Shaw, 52, is regarded as one of the country's top all-weather trainers and has been behind hundreds of winners.