Dorset rifleman killed unlawfully, coroner says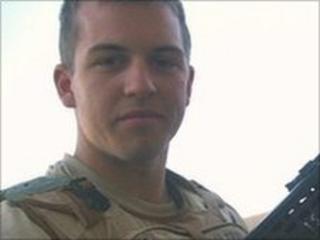 A soldier who died after spending just six weeks in Afghanistan was unlawfully killed, a coroner has recorded.
Rifleman Philip Allen, 20, of Verwood, Dorset, joined the Army in April 2009 and, by September, was in Afghanistan.
He was killed by a roadside bomb near Sangin in Helmand on 7 November, Bournemouth Coroner's Court heard.
Rifleman Allen had proposed to his girlfriend the day he left the UK. His mother told the inquest he had wanted to be a soldier from the age of five.
The inquest heard he was doing a "nerve-wracking" job that required skill and bravery.
He had been part of a patrol heading out across the desert towards a hilltop observation point the day he died, the court heard.
He and a colleague were at the front of the patrol with metal detectors, checking for improvised explosive devices (IEDs).
They successfully made it to the hilltop, but as Rifleman Allen cleared an area there, he came across an IED that exploded beneath him.
The inquest heard the injuries were devastating.
His Army colleagues told the court about the desperate efforts they made to try to save him.
Speaking after the inquest, his mother, Karen Charman-Allen, said she felt close to the men who were with her son that day
"Phil was a rifleman through and through," she said.
"He loved his job, his loved the career he went in to.
"I may have lost him and I know nothing will ever bring him back to us. I may have lost my son but I certainly gained a family full of them now.
"I'm very close to them all."
At the time of his death, on the eve of Remembrance Sunday, Rifleman Allen, from 2nd Battalion The Rifles, was serving with A Company, 4th Battalion The Rifles.
About 600 people attended his funeral at Wimborne Minster in December.
Friends of the soldier, who was a keen musician, have put together a CD of his songs, with the proceeds helping two army charities.